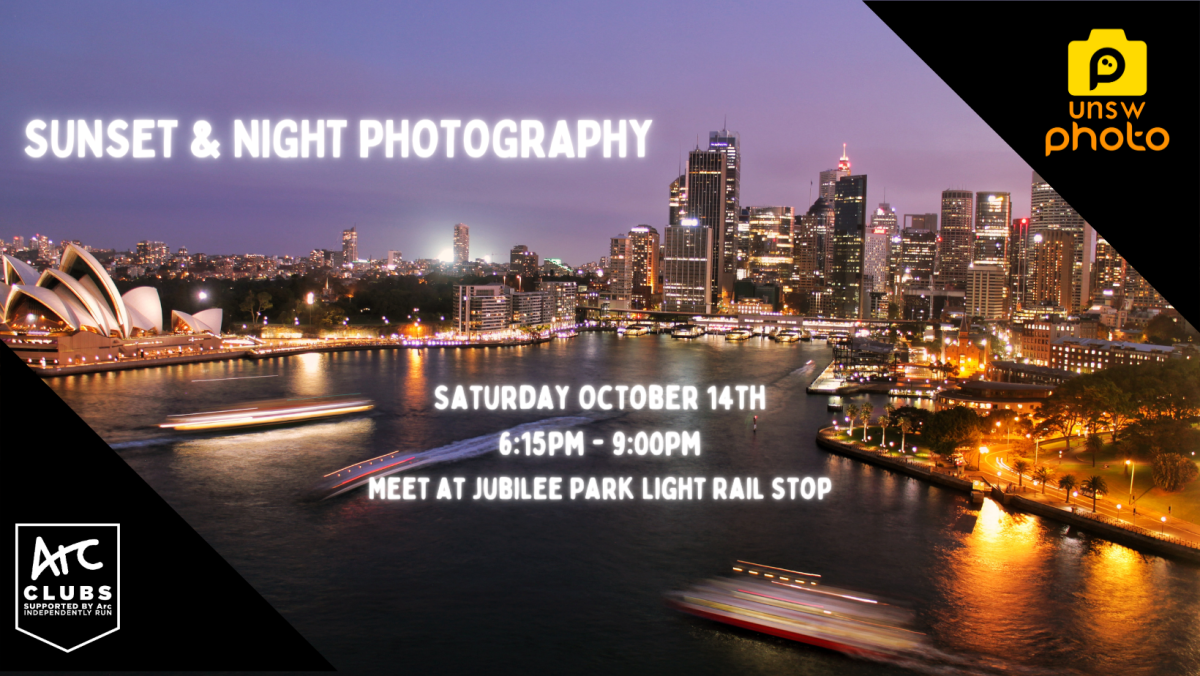 *RSVP by clicking 'going' on the event*

Event Details:
Date: 14th October 2023
Time: 6:15 pm – 9:00 pm
Meeting Location: Jubilee Park Light Rail Stop
After receiving some great feedback from our last night walk last term, we shall be doing another! This term our Night Photography Outing is back again! Do you want to experience the night vibes of Sydney? Do you want to take some fascinating night views in Sydney?
This week we're excited to bring you on our 2nd night trip of 2023!
We'll start with a chill walk from 6:15pm from Glebe Point to Baragaroo and along the way we will be visiting the Blackwattle Bay Park, then we will continue our work to Darling Harbour, then Barangaroo and we will finish at Wynyard.

This event will allow you to capture all the nightlife around the famous Darling Harbour and Pyrmont precincts, whilst also having the Sydney CBD skyline as a backdrop.
This event is FREE, but there are limited spaces available, so please register to secure your  spot!  This event is open to 2023 PhotoClub members only!
Please keep an eye on the Facebook event on that day in case of any changes and for the exact meeting point. 
Not a PhotoClub member? Sign-up online: https://www.unswphoto.com/join-us
Sign up link: https://www.eventbrite.com.au/e/term-3-week-5-outing-sunset-night-photography-walk-from-glebe-point-to-tickets-733995860377
FB Event Link: https://fb.me/e/1g3x1yHw5