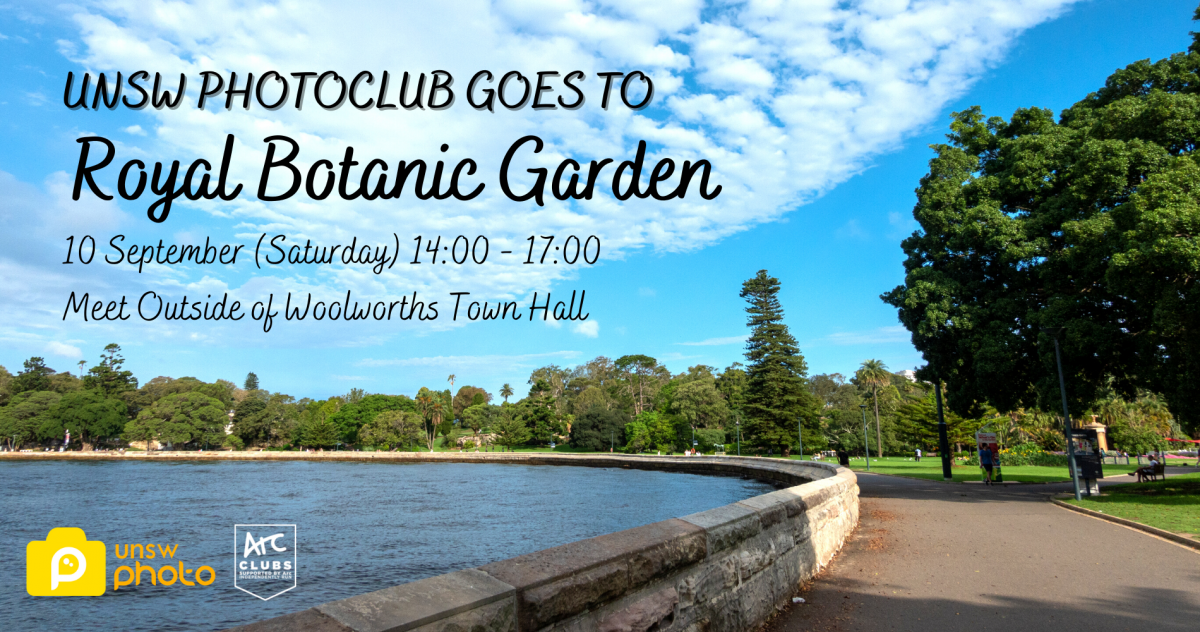 Date: 10/09/22 (Saturday) 
Time: 14:00 – 17:00 
Meeting point: Outside of Woolworths Town Hall 
Description:  
*RSVP by clicking 'going' on the event* 
Let's kick off the term with an outing. Join us, as we take you on a stroll through peaceful parks, grand gardens and stunning harbour views. We will be visiting many iconic places such as Hyde Park, St Mary's Cathedral, Mrs Macquarie's Chair and the Sydney Opera House. The variety of locations will motivate you take many snaps!  
We will meet at 14:00, Outside of Woolworths Town Hall, before making our way around the parks and gardens until we reach Circular Quay by 17:00.  
This event is FREE for UNSW PhotoClub members but spots are limited, so be sure to secure your place by registering here ASAP: https://unswphoto22t3rbg.eventbrite.com.au  
Snacks and drinks will be provided, let us know if you have any dietary requirements. 
Please keep an eye on the Facebook event on Saturday in case of any changes and for exact meeting point. 
Items to bring: 
Camera -DSLR, MILC, Compact, Film, Mobile, as long as it takes pictures 
MASKS!!!! Mandatory on public transport  
Water and Snacks 
Sunscreen 
*This event is open to 2022 UNSW PhotoClub Members only. * 
Not a member? Join PhotoClub – https://www.unswphoto.com/join-us/ 
Want to borrow some equipment for free? Check out the list at: www.unswphoto.com/equipment