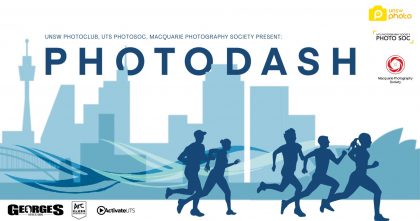 * PhotoClub's Largest Annual Event *
PhotoDash is back for 2022! Compete with each other in teams of 4 and rival other unis while scouring Sydney for pictures to win some fantastic prizes!
Date: Sunday October 23
Time: 10:00am – 4:00pm
Price:
UTS:
$6 for UTS PhotoSoc members
Macquarie University:
$6 for Macquarie Photography Society members
UNSW:
$5 for PhotoClub Arc members
$6 for non-Arc PhotoClub members
$10 for non-PhotoClub members (with Arc membership)
$16 for non-PhotoClub members (without Arc membership)
If you're coming, don't forget to click '
Going
' on our Facebook event.
Need more convincing? Read on below!
What is PhotoDash?
Think of it as The Amazing Race, but with cameras and a few surprises thrown in here and there. If you have seen the Amazing Race on TV, you should have a good idea of what it's all about.
For those who haven't, teams will complete photographic challenges around the city, find clues and race to the finish line. It will be a fun filled day where you can challenge your mind, body and photography skills, and it doesn't matter what type of camera you have.
There will be prizes for:
First Place (Team)
Second Place (Team)
Third Place (Team)
So what are you waiting for? Gather your friends, PhotoClub or not, and be the fastest out there!!
For any inquiries or questions, please send us an email at
events@unswphoto.com
or send us a message on our Facebook page, and we'll get back to you shortly!