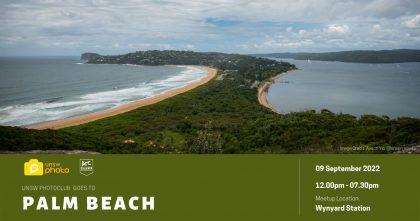 EVENT CANCELLED DUE TO POOR WEATHER
Date: 09/09/22 (Friday) 
Time: 12:00 – 19:45 
Meeting point: Wynyard Station Concourse Level 
Description:  
Want to go somewhere a bit further around the city? You are in luck because PhotoClub is going to Palm Beach this week! 
After the bus ride from the city, we will be visiting the famous Barrenjoey Lighthouse for the view of Palm Beach. Barrenjoey Lighthouse was built in 1881, and it is one of the iconic attractions in Sydney. After visiting Barrenjoey Lighthouse, we will have an afternoon tea at Governor Phillip Park for a relaxing afternoon, snacks and drinks will be provided. This will be a great opportunity to get to know other members in the club before the start of the term. Finally, before we head back to the city, we will visit Palm Beach Bible Garden to enjoy the view of Palm Beach.  
This event is FREE for UNSW PhotoClub members but spots are limited, so be sure to secure your place by registering here ASAP: https://unswphotot3w0palmbeach.eventbrite.com.au  
Meeting time and place is 12:00 at Wynyard Station Concourse Level to catch the 12:15 B1 Bus. Please arrive on-time or early!  
Snacks and drinks will be provided, let us know if you have any dietary requirements.
Hint: 🥮 (You may see this)
Please keep an eye on the Facebook event on Friday in case of any changes and for exact meeting point. 
Items to bring: 
Camera -DSLR, MILC, Compact, Film, Mobile, as long as it takes pictures 
MASKS!!!! Mandatory on public transport and during the events 
Water and Snacks 
Sunscreen 
Comfortable pair of walking shoes 
*This event is open to 2022 UNSW PhotoClub Members only. * 
Not a member? Join PhotoClub – https://www.unswphoto.com/join-us/ 
Want to borrow some equipment for free? Check out the list at: www.unswphoto.com/equipment