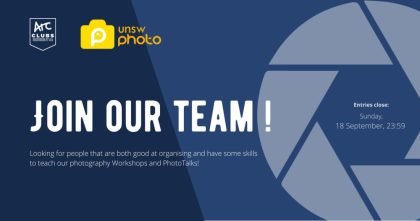 ATTENTION PhotoClubbers, here is your chance! We are seeking new Junior Executives to be a part of the exciting behind-the-scenes of PhotoClub! Junior Executives help us run events, including developing new and awesome PhotoTalks and Outings. They can also be involved in other areas like community, communications & IT, competitions, design, social media, and events!

What areas are you going to work at?
Community: Manage our jobs and sales programs, check-out our websites for more details!
Communications & IT: Manage our website and YouTube channel
Competitions: Organise themed challenges and PhotoBook
Design: Design our banners and posters
Social Media: Manage our socials, like Facebook & Instagram pages
Events: Plan for our PhotoTalks, Outings, and RoadTrips, as well as our events management platform. You might be required to be the tour leader for the outings and carry out scouting
We are especially looking for people that are both good at behind-the-scenes organising and have some skills to teach our photography Workshops and PhotoTalks! Outstanding performers will have chances to become our senior executives in the future. Please complete the expression of interest form: https://forms.gle/TKko9MekJNWq8atc8 by Sunday, 18 September 2022 at 23:59 AEST.

In the form, please include a brief description of why you think you'd be an integral part of the PhotoClub Executive Team! This could be your past experience, passion and much more!

We'll then get back to you to arrange a time for you to have a chat with some of our Executives!

Please make sure to keep an eye on your emails so you don't miss out because we'll be having a really quick turnaround! We will review the application in a rolling basis so don't wait until the last minute to submit your application. Apply today!

Entries close Sunday, 18 September 2022 at 23:59 AEST.

If you have any enquires, please email at president@unswphoto.com

We look forward to hearing from you!