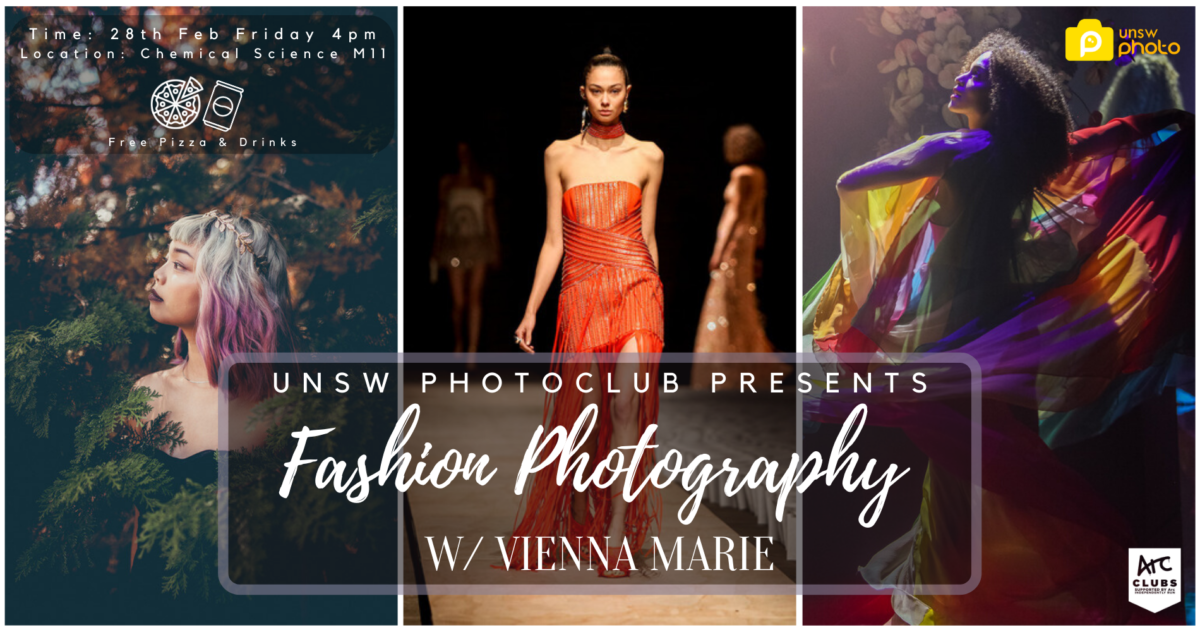 Studio Shoot
Date: 29/02/2020
Time: 9:00am – 5:00pm
Points of Contact:
1. Nishant – +61 450 731 537
2. Izzaldin – +62 423 388 884
*RSVP by clicking 'going' on the event*
Learning photography is like riding a bicycle: you can't learn by reading books, tutorials, and videos, you have to do it by yourself. Now, we have given you knowledge about camera techniques in Week 1 and explored fashion photography in Week 2. Now it's time to take some photos BUT models, a studio, and studio lights are so expensive, right?
Don't worry!
Come to our Studio Shoot this Saturday and polish your portraiture skills in an optimal environment. We have a studio, lights, backdrops, a helpful executive team, and most importantly, MODELS. This term we are bringing back one of our most well-received events, the studio shoot, with an even more impressive lineup of models, each with unique individual styles for maximum picture variety!
Don't worry if you are new to photography or are nervous that you don't know what to do in a studio, as our studio shoot sessions are very beginner-friendly, and our helpful team will be there to help you through the whole process.
This event is FREE but due to limited space, we will require you to sign up to secure your spot and let us know of your availability.
Sign-Up: https://forms.gle/7vT6gQgG3wLSQADr6
Due to limited space and availability, it is on a FIRST COME, FIRST SERVED basis, so sign up ASAP to secure your preferred time slot. You will be emailed prior to the event with a confirmation of your outcome, timing and further details.
*This event is open to 2020 UNSW PhotoClub members ONLY. (Please bring your membership card)
Week 2 Workshops
Want to learn basics of photography? Well you're in luck as we shall be conducting Exposure and Composition workshops this week,
*RSVP by clicking 'going' on the event*
Exposure Workshop:
A simple introduction on how a camera works. We will cover aperture, shutter speed and ISO and how to balance these basic components to take a good photograph.
Composition Workshop:
This workshop covers all the major rules and guidelines of composition, which will assist you in turning nice photos into great ones. The compositional tools we look at include figure-to-ground, framing, viewpoint, perspective and many more. We will also deconstruct some famous photographs to see what makes them so powerful.
Where you ask? The schedule is as below:
Monday, February 24, 2020
12:00 PM – 1:00 PM
Composition (QUAD G032)
Tuesday, February 25, 2020
11:00 AM – 12:00 PM
Exposure (QUAD G033)
Wednesday, February 26, 2020
4:00 PM – 5:00 PM
Exposure (QUAD 1049)
Thursday, February 27, 2020
1:00 PM – 2:00 PM
Composition (QUAD G042)
Hope to see you there!
---
Themed Competition: Campus 101
New year ahead, and what better way to explore the campus than to take photos for a chance to win hundreds of dollars worth of prizes! For the first competition of the year, we are teaming up with UNSW to seek the best photos of our campus!
Whether it's the campus architecture and interiors or the interactions between people that happen within it, be sure to find new perspectives and capture unexpected wonders!
If you are feeling stuck, check out the examples to get some inspiration!
Prizes are plentiful!
1. $200 Georges Gift Card
2. $100 Georges Gift Card
3. Charing Cross Print
rewards also include shout-outs on UNSW's Insta account!
Please add #UNSWPCCAMPUS to the description of your submission
DEADLINE: 1st MARCH 2020
Submit your photos via our Facebook Group AND then by email to competitions@unswphoto.com (subject: CAMPUS101_zID) – please include your insta handle in the email.
---


Merchandise

T-Shirts are now available: CLICK HERE

Get a T-Shirt for the upcoming hot weather!

T-Shirts are on sale for only $12!! We've covered part of the cost for you to bring the price down! Stock is limited, so get in quick to ensure that you get your size!

There are also a few hoodies remaining and a combo deal of $45 for both a hoodie and t-shirt is still valid!

Questions? Reply to this email or message on Facebook!