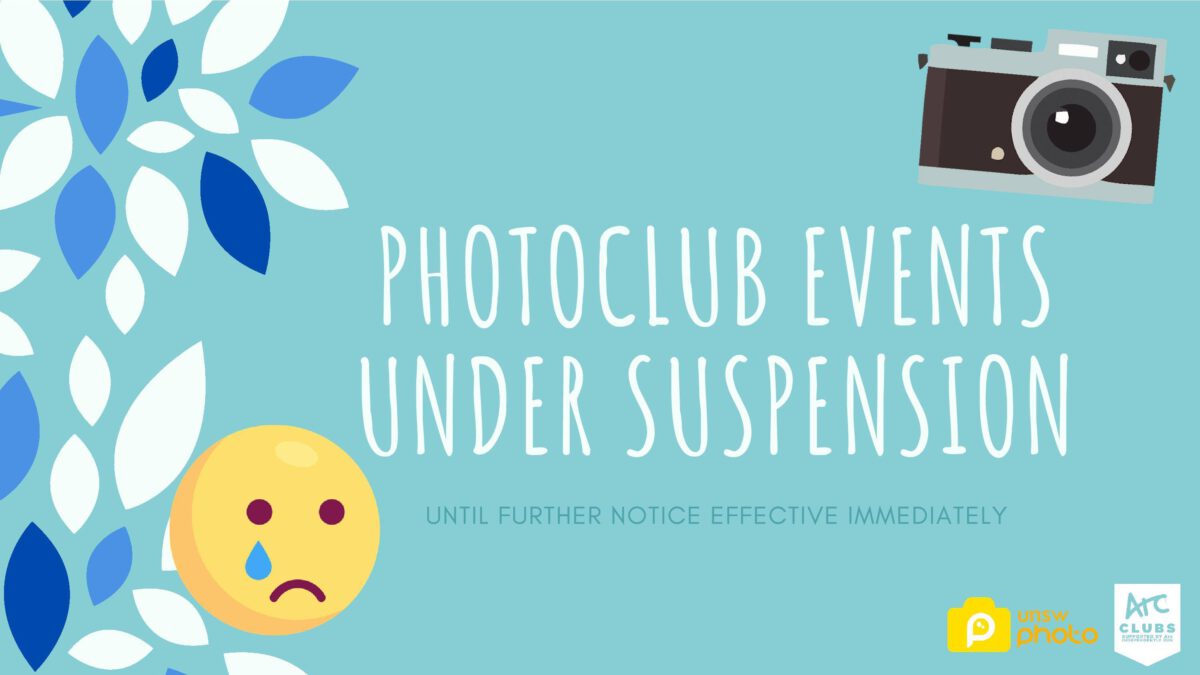 Dear PhotoClubbers,
Due to the evolving situation regarding COVID-19, we regret to inform you that all PhotoClub events are suspended until further notice effective immediately. We are taking this precautionary measure to help minimize the risk surrounding COVID-19.
This also means that we will not be releasing our RoadTrip for the end of this term. This may be postponed for Term 2.
The suspension does not extend to club activities that do not involve social contact such as our competitions (the next one will be released later this week) and our Jobs and Coverage programs (given that the opportunities may not involve mass social gatherings). We will also discuss what other online opportunities we may be able to provide for you.
PhotoClub will continue to monitor the situation and provide relevant updates should additional precautionary measures be taken, guided at all times by recommendations from Arc, the University, and the Australian government.
In the meantime, please ensure that you practice proper hygiene including proper hand hygiene at all times to stay healthy and reduce the risk of transmission.
If you have any questions at any point, as always feel free to contact us via email at mail@unswphoto.com or via social media (Facebook – UNSW PhotoClub and Instagram – @unswphoto).
Thank you for your understanding and cooperation.
Stay safe!
Regards,
Izzaldin Soerono President 2019-2020
Chloe Fong Vice President 2019-2020
Christopher Cunio Treasurer & Immediate Past President 2017-2019
UNSW PhotoClub