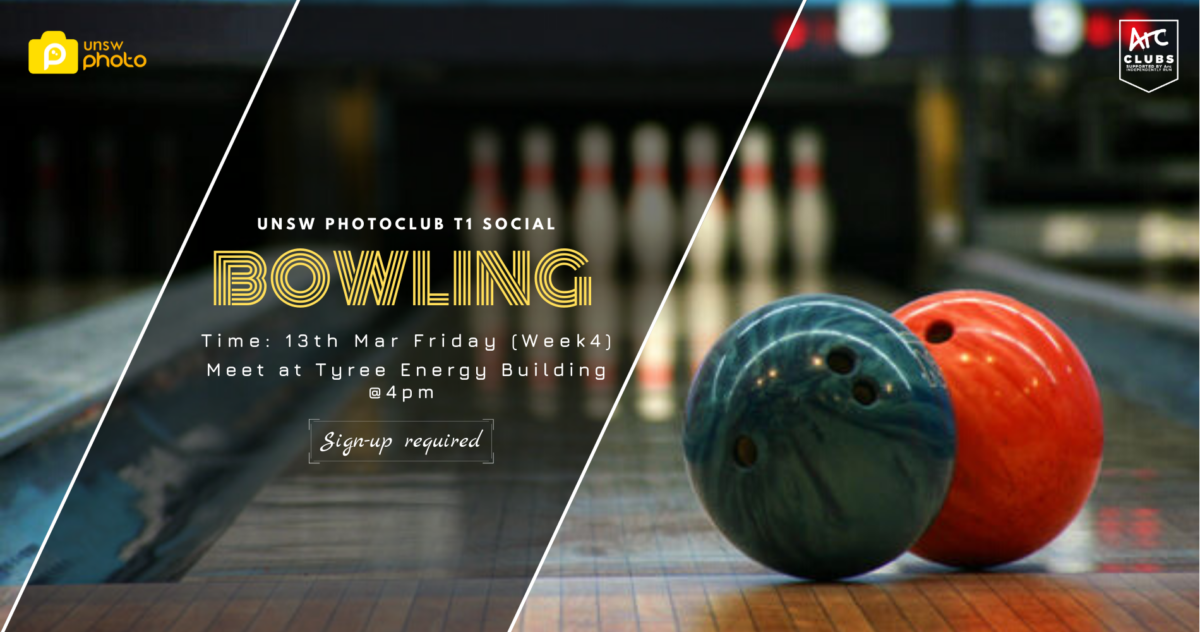 Events!
Week 4 Social: Bowling
Week 4 Outing: Cockatoo Island
Week 5 Tutorial: Events Photography
Week 6 Tutorial: Architectural Photography
As always, message the Facebook page or email if you have any questions!
Welcome to PhotoClub for 2020 – I hope like me you're looking forward to learning new photography skills and meeting new people! In terms of communication, you'll receive an email each week with the week's outline, in addition we have:
If you have not signed up on SpArc, login to your account here.
Ensure you join both our Facebook page and Facebook group
---
Week 4 Social: PhotoClub goes Bowling
Date: 13/03/2020
Time: 4:00pm – 6:30pm
Location: Chemical Sciences M11
Points of Contact:

Nishant – +61 450 731 537

Izzaldin – +62 423 388 884

*RSVP by clicking 'going' on the Facebook event*

This week, PhotoClub is changing things up: we're doing a Social on Friday! And not just any Friday but it's going to be Friday the 13th, so what better way to test your luck than to go bowling! The club will be subsidizing the price so the cost will be $13 (coincidence?) down from $21. After the game is finished it's up to you – we can play more games, go to the arcade, have dinner or simply go home for a night of unluckiness (kidding!).

So, the cost is $13 for Arc members and $15 for non-Arc members.

SIGN-UP HERE: https://forms.gle/ac9y8pi9eJToHETZA

We'll be meeting outside the Tyree Building at 4pm to catch a bus to Strike Entertainment Quarter (please don't be late!). If you want to meet us at Strike Entertainment Quarter, please let us know!

*This event is open to 2020 PhotoClub members only (please bring your membership cards).

---
Week 4 Social: PhotoClub goes to Cockatoo Island

(Please be advised that there MAY be updates to the event, RSVP the event on Facebook for notifications)
Date: 15/03/2020
Time: 1:30pm – 5:00pm
Location: Two meeting points, check description!

Nishant – +61 450 731 537 (UNSW meeting point)
Anson – +61 412 835 396 (Circular Quay)

*RSVP by clicking 'going' on the event*

This week we will be heading to Cockatoo Island for Heritage Photo Challenge. This unique location boasts breathtaking views of Sydney Harbour and houses archaic landmarks for architecture plus we will be hosting a fun challenge. Winner of the challenge will get a $50 prize.

There are two meeting points:

Tyree Energy Technology Building at 12:40 PM
Circular Quay Wharf 5 at 1:20 PM

Please note that we will not be stopping for food, hence we recommend have lunch before or bringing a snack and drink to keep you fuelled for the walk.

Please keep an eye on the Facebook event on Saturday in case of wet weather.

Items to bring could include:
Camera – DSLR, MILC, Compact, Film, Mobile, as long as it takes pictures!
Tripod
Comfortable and walking shoes
Opal card
Sunscreen & hat for sun protection

*This event is open to 2020 UNSW PhotoClub members only (please bring your membership card).

Want to borrow some equipment for free? Check out the list at: unswphoto.com/equipment
---
Merchandise

T-Shirts are now available: CLICK HERE

Get a T-Shirt for the upcoming hot weather!

T-Shirts are on sale for only $12!! We've covered part of the cost for you to bring the price down! Stock is limited, so get in quick to ensure that you get your size!

There are also a few hoodies remaining and a combo deal of $45 for both a hoodie and t-shirt is still valid!

Questions? Message on Facebook!