Tutorials and Events
Welcome Back Day (Tuesday)
Date: Tuesday, 17th July 2012
Time: 9am to 4pm
Location: Stall 39, Main Walkway (near the Red Centre)
We're back for semester 2! Have friends that are into photography or who just want to learn how to use their camera? Show them the light and bring them along to sign up! And if your friends aren't into photography? Drop by and say hello anyway – we've missed all of you! See you there! Join our event on Facebook
here
Tutorial: Intro Session, Pizza and Photo Sharing (Friday)
Date: Friday, 20th July 2012
Time: 4pm to 6:30pm
Location: Central Lecture Block (CLB) (Signage displayed in CLB Foyer)
Welcome back to another semester with the PhotoClub! This week's tutorial comes in two parts. We'll begin with an introductory session where you'll get to meet everyone and find out what's going to happen this semester. There are also some prizes and new t-shirts to hand out!
The second half of the tutorial will be a photo sharing session. Bring along some photos you shot over the break (either on a USB or your website/flickr/etc) and show them off. But remember, please choose only a couple of your best photos as this will allow more people to have a turn.
Like all photo sharing nights, we will also be having pizza. Note that if you are staying for pizza, you MUST RSVP by clicking "attending" on our event page (otherwise we might not order enough pizza!)
Open to UNSW PhotoClub members only. Please remember to bring along your membership cards for identification!
Points of Contact:
Andrew: +61 437 994 229
Adam: +61 433 012 802
World Press Photo and SMH Photos 1440 (Saturday)
Date: Saturday, 21st July 2012
Time: 10am to 1pm
Location: State Library of NSW (Macquarie Street , Sydney CBD) 
This weekend we will be heading to the State Library to have a look at the World Press Photo and SMH1440 exhibits.
World Press Photo is a collection of the world's best photojournalism. The exhibition features over 200 powerful images by 57 photographers. Check out www.worldpressphoto.org/gallery/2012-world-press-photo for a sneak peek at the pictures.
The Sydney Morning Herald's Photos 1440 exhibition features prints and multimedia of the best published and unpublished work by Sydney Morning Herald photographers from 2011 to the present.
After checking out the exhibitions we'll have lunch in the city. Depending on the weather, there might also be the opportunity spend the afternoon shooting in the city.
Don't forget to tell us you are coming: RSVP Here
Points of Contact:
Andrew: +61 437 994 229
Adam: +61 433 012 802
Announcements
New Calendar for Semester 2
Dying to know what we've got planned for this semester? Head to our Calendar here! (Note that this is a draft calendar – tutorials may change depending on the availability of guest speakers)
New Club T-Shirt
Shirts arriving soon! 

For those members who ordered shirts over the holidays – your shirts should be coming soon! Lastest word is that they arrived in Sydney a few days ago 😀
Did you miss out on the first order? Don't worry – we should be doing another order in the near future. Stay tuned for details! If you need a reminder of what the shirt looks like, here is the awesome design by our very own talented member, Namfon Bunduwongse.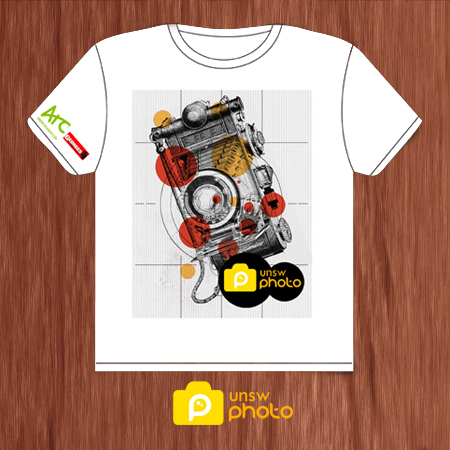 2012 Photobook Competition
Submissions are still open! Taking final entries: Midnight, Sunday, 22 July 2012.
You may have heard about the Photobook already – it is our annual PhotoClub publication by members and for members! Each year entries are sent in and winners are printed in a book which we get published professionally. Winners receive prizes as well as their photograph published! – How cool is that! We've had pretty successful competitions so far for the past two years, and great Photobooks for 2010 and 2011, so we hope that you members will be able to make the 2012 competition greater than ever!
More Info: www.unswphoto.com/2012photobook
Terms & Conditions (Must read): www.unswphoto.com/2012photobooktc
Kindly send any queries or uncertainties to the mail@unswphoto.com, and we will try to answer them as quickly as possible.
PhotoDash 2012
Week 2 – Saturday (28 July)
What's this PhotoDash you may ask? It's only the biggest event of the year!! Following the award winning event last year, PhotoDash is back! PhotoDash is an Amazing Race type of event mixed with photography! So not only do you test yourself physically, but also mentally! In teams of 4 you will be running across Sydney CBD for your chance to win some awesome prizes! PhotoDash 2011 Trailer: Watch It Now
Photographers of all levels are welcomed to participate – Amateurs to Professionals, Phone cameras to DSLR's
How to sign up?
If you are keen to take on this challenge you can REGISTER HERE!
Registration Deadline:  SUNDAY 8PM 22nd of July 2012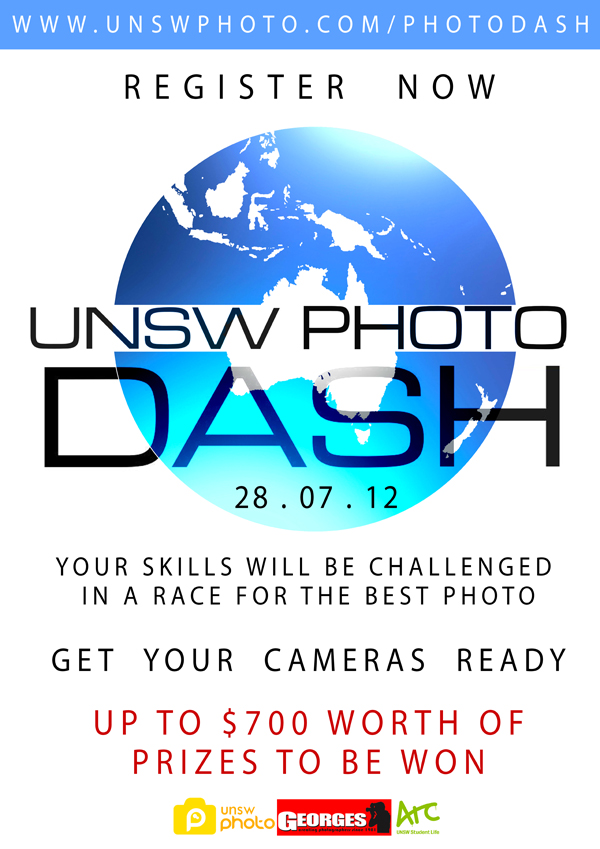 LensLife 2012
Coming Soon in Week 5

You've probably all heard of Artsweek – this fabulous creative explosion that takes over UNSW for a whole week. It is run through Arc with 2 core competitions – one being LensLife and the other being Sounds Competition. This year it's all about 'Coming Together – Cultural diversity around campus' and UNSW PhotoClub has taken over LensLife this year (Yay!). We'll be hosting various talks, events, and exhibits in and around uni in week 5 so tell all your friends.
You can find the entry form on the Arc website: http://www.arc.unsw.edu.au/get-involved/volunteering/artsweek
Artsweek: facebook.com/unswartsweek