Hello everyone! Time did its thing again, and now the summer holidays are coming to a close. But I'm sure the 3 month odd break must have given you enough rest and you're now geared up for the upcoming semester! We are completely psyched for the coming semester because the club had already put together a whole lot of great events for each and every week of the semester!
First up, we are having our O-WEEK in just a week's time! O-week stretches from the 21st to the 25th of February, and Photoclub will be there all week long, from 10am – 4pm! Come on down and visit our booth on any of the days during the O-week, to join us or renew your annual Photoclub membership to have access to great fun and events 😀
Well, you might think that membership is available all year long and you wouldn't need to renew it particularly during O-week. I'm afraid I'd have to say you are making a grave mistake 😛 Renewal of membership during O-week allows you to reap more benefits that you could ever imagine!
Not only will you be able to renew your membership at a flat rate of $10 or a package deal of membership + limited edition Photoclub Tee at $20 (regardless of whether you are a UNSW student or not), you are giving yourself the chance to win some very attractive prizes, and most of all, Freebie Bags! These freebie bags contain things that we know you'll want, the best you could find in a photography goodie bag. (I'm not even lying!) While stocks last!
As for the prizes, let's just say that we have Fuji Instax Cameras to be won. How awesome is that you tell me? Join us and you stand a chance to bring them home, when I actually got mine at $150 🙁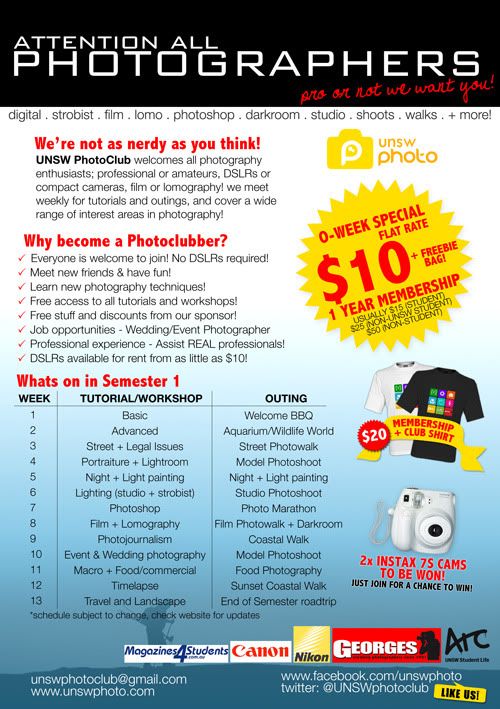 So, I think the best you can do for yourself is to look out for Photoclub booth during O-week, and sign up to be part of UNSW's greatest group of photographers. I guarantee no regrets! 😀
Stay tuned to this page, as well as our Facebook Pages/Events for more details. Do RSVP via Facebook! And if you have any other queries that you think we can help you with, feel free to email us or simply leave a wall post on Facebook. I'm very sure you'll get an answer from us in the shortest time possible.
Most important of all, WE HOPE TO SEE ALLLLLL OF YOU THERE!