Have cool events but no photographer to capture them?
The coverage program is an initiative dedicated to helping UNSW societies and Organisations promote themselves. Contact us via the form below and we'll put out a volunteer request to our members for a photographer to attend, shoot and provide a limited number of photos for your social media.
We'll also publish the shots on our sites, so you'll be able to increase your student outreach even more, with access to our 500-odd members. Whether you want to expand your social media presence or just get some cool shots, we're always interested in hearing your thoughts.
If you have an event that needs to be photographed, please fill out the Coverage Photography Form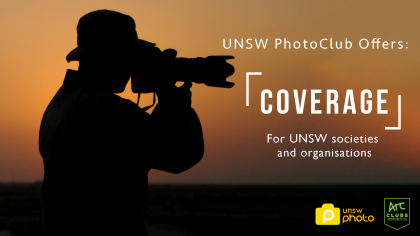 Feel free to contact our marketing team at coverage@unswphoto.com if you have any questions or concerns.
Current Coverage Opportunities:
1)  Charity Yoga Class Coverage!
Organisation: Children's Cancer Institute
Location: UNSW –  Science Theatre
Date: 6th May, 2019
Time: 11:30 AM to 1:00 PM
Description: Covering a charity yoga class that aims to raise funds to support research to cure childhood cancer. It's a great opportunity to get event photography experience, meet new people and gather knowledge about the intensity of the cause.
2)  Law Educational Seminars!
Organisation: Continuing Legal Education, UNSW Law
Location: UNSW CBD Campus, L6, 1 O'Connell Street, Sydney
Date: Either 4th, 5th, 14th or 21st of June and; 8th, 9th of July
Time: 08:30 AM to 12:15 PM
Description: This is an opportunity to work closely with a professional team providing educational seminars to lawyers in the CBD for the Centre of Continuing Legal Education.  The organiser's wish to have a range of quality, realistic photos which capture the professional experience of their seminars. There are a range of CPD seminars throughout June that they are providing, and they require a volunteer with some experience in photography to capture the speakers, as well as the experience that they have on any of the days listed above in June. There will also be a separate event on July 8 & 9 when an Indonesian delegation will be visiting UNSW.  The photos will be used for promotional purposes i.e. social media and marketing and photo credit will go to the photographer.  Payment will be negotiated with the successful candidate prior to the event.
If interested in any of opportunity above, please email; coverage@unswphoto.com along with your PhotoClub membership number for more details.