Term 1 Week 8 PhotoTalk: Nature Photography 
Date: 08/04/22  
Time: 1:00pm –2:00pm AEST 
Location: Online Via Zoom 
Description: 
Nature photography will never go out of fashion. The thrill of capturing the flora and fauna of our world is a feeling that everyone can resonate with, but how can we effectively translate what we see into a 2D photograph? We will explore general tips, a variety of styles and philosophies in our upcoming Nature PhotoTalk in Week 8. Come along if you want to be inspired and learn how to elevate your photography of nature. 
This event is open to 2022 PhotoClub members only. 
Not a PhotoClub member? Sign-up online: www.unswphoto.com/join-us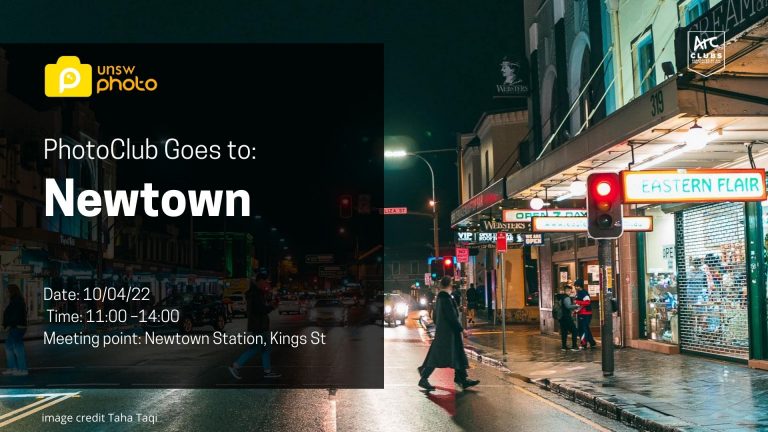 Term 1 Week 8 Outing: PhotoClub Goes to Newtown
Date: 10/04/22   
Time: 11:00 – 14:00 
Meeting point: Newtown Station, Kings St 
   
Description:  
This Sunday, join us as PhotoClub takes you through Newtown, a bohemian Sydney suburb filled with street performers, graffiti, iconic street arts, murals and unique shops making it the perfect location for street photography.  
 
We will meet at the Newtown Station, Kings St entrance and explore the iconic works like the I Have a Dream mural, Falling Sky mural and the Mays Lane Art Project just to name a few. 
 
This event is FREE but due to limited space, we will require you to sign up to secure your spot and let us know of your availability as a part of our COVID-19 infection control measures.
Sign-Up: https://forms.gle/WM6XFcVdarUtYHrN6  
 
Please keep an eye on the Facebook event on Sunday in case of any changes and for exact meeting point. 
All attendees must adhere to PhotoClub's COVID-19 policy: https://www.unswphoto.com/covid-19-policy/ 

Items to bring: 
Camera -DSLR, MILC, Compact, Film, Mobile, as long as it takes pictures

 

Comfortable pair of walking shoes

 

MASKS!!!! Mandatory on public transport and during the events

 

Water and snacks

 

Opal Card

 
This event is open to 2022 PhotoClub members only!
Not a member? Sign-up online: www.unswphoto.com/join-us 
Want to borrow some equipment for free? Check out the list at: www.unswphoto.com/equipment