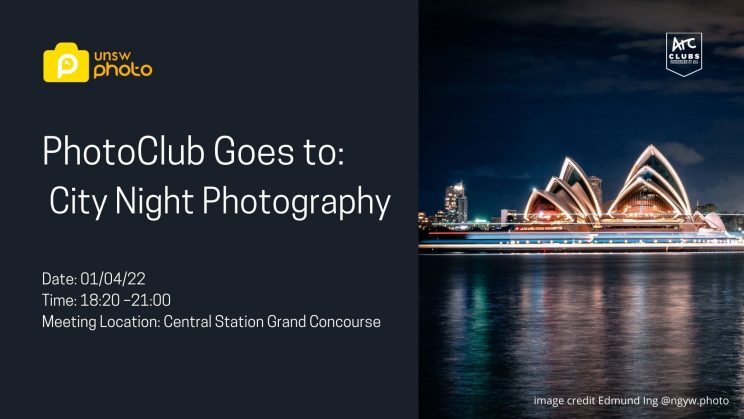 Term 1 Week 7 Outing: PhotoClub Goes to City Night Photography 
Date: 01/04/22  
Time: 18:20 – 21:00  
Meeting Location: Central Station Grand Concourse (Intercity and Regional Services platforms) 
Description:   
*RSVP by clicking 'going' on the event* 
This Friday night, we will go to the City to have some night photography, getting shots different famous landmarks in the dark. 
We will meet at Central Station Grand Concourse at 18:20, then walk along the George Street to capture the night view of the vibrant city, including the Light Rail, Town Hall, QVB and finally ending the tour at Circular Quay where we can capture the famous Harbour Bridge and Opera House. 
This event is FREE but due to limited space, we will require you to sign up to secure your spot and let us know of your availability as a part of our COVID-19 infection control measures. 
Sign-Up: https://forms.gle/a44p2GdZf8bBV1qR7  
Please keep an eye on the Facebook event on Friday in case of any changes and for exact meeting point. 
 
All attendees must adhere to PhotoClub's COVID-19 policy: https://www.unswphoto.com/covid-19-policy/ 
Items to bring: 
Camera – DSLR, MILC, Compact, Film, Mobile, as long as it takes pictures! (DSLR & MILC are preferred)

 

Comfortable pair of walking shoes

 

Tripod

 

Remote shutter release (if you have one)

 

Water and snacks

 

MASKS!!!! Mandatory on public transport and during the events

 

Opal Card

 
This event is open to 2022 PhotoClub members only! 
Not a member? Sign-up online: www.unswphoto.com/join-us 
Want to borrow some equipment for free? Check out the list at: www.unswphoto.com/equipment